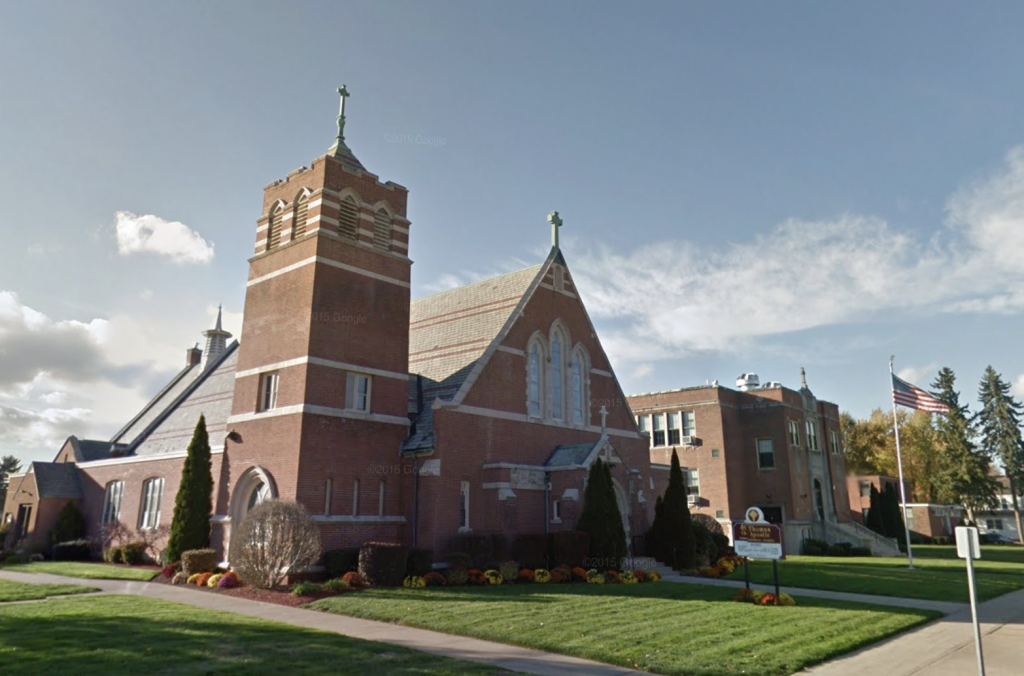 Homily for the Solemnity of the Body and Blood of Christ
Jun 14th, 2020 by Fr. Jack
This feast that we celebrate today, the Most Holy Body and Blood of Christ, often called Corpus Christi, is one that has developed over the centuries. The origin of the feast (so the story goes) is with the experience of a priest, many centuries ago, who was struggling with belief in the real presence of Christ in the Eucharist. His faith was beginning to weaken. One day he was celebrating Mass and just as he was consecrating the host, it began to bleed. And that, not too surprisingly, reaffirmed not only his faith but also that of his congregation. In that community, the celebration of that event came to be called Corpus Christi and is now celebrated throughout the Church.
At first, the focus of the celebration was on the miracle that happened to the host. As time passed, however, and, especially since the time of the Second Vatican Council, our celebration has been focused on the spiritual nourishment that we receive in communion with the whole Church when we eat the Body of Christ and drink His blood.
God has joined us together, all of us, in a relationship that goes far beyond anything of our own design, a relationship that is, indeed, marked by something more than human. It means that we now encounter God by turning our attention deep into the center of our own lives, and the lives of those around us, and especially in our life of worship together, because, as St. Augustine points out, that is where God has chosen to be with us. It means that the way we treat one another is the way we treat Christ. Jesus, Himself, said, "Whatever you do to one another, you do to me."
At the very heart of our faith in Christ is our commitment to a morality, an ethic, of love for one another. And it is to a very particular understanding and practice of love that we are called as Christians. Jesus set the standard simply enough: we are to love one another as God has loved us. While we may call others to task for their actions, our attitude toward others can never simply be what we might think the other deserves, or what feels right to us at the moment. Instead, our attitude must mirror God's own attitude. Again, in Christ's own words, if we are to be His people, His Body, we must love our enemies. A radical calling? Yes, but one which Jesus carried out in His own life.
Every week, every day, the Church celebrates the mystery of our intimacy with God. We celebrate it in a way that not only recognizes and honors that mystery but, in fact, brings it about and makes it happen. Our worship, the taking of the Eucharist, is the means by which God has chosen to become one with us. God could have chosen any number of ways of bringing about this intimacy with His people, but He chose this food, this drink. God chose the very human act of eating as the way in which He would make us more than human. And that is a degree of intimacy that defies understanding. It defies even imagination; it requires faith.
And so, the Eucharist is integral to what it means to be the community of the Church. We not only partake in the Body and Blood of Christ but, every time we gather together in God's name, every time we work to bring about the justice of which the Gospel speaks, we are the Body of Christ on earth.
St. Paul tells the Corinthians: "Now you are Christ's body, and individually parts of it." St. Theresa, in her prayer, says to us, "Christ has no body now but yours, no hands, no feet but yours." As we celebrate the Eucharist today and every day; as we partake, together, in the One Bread and the One Cup; as we eat the real Body of our God and Savior, let us be mindful that we, the Church, are the Body of Christ on earth and that, as such, we are called to be the hands and the feet of the Lord. We are called to be instruments of God's love to all people, so that, through our actions of love and care and concern, all people may witness the love and care and concern of God who acts in and through each one of us.+
Share
|
Download(

Loading

)