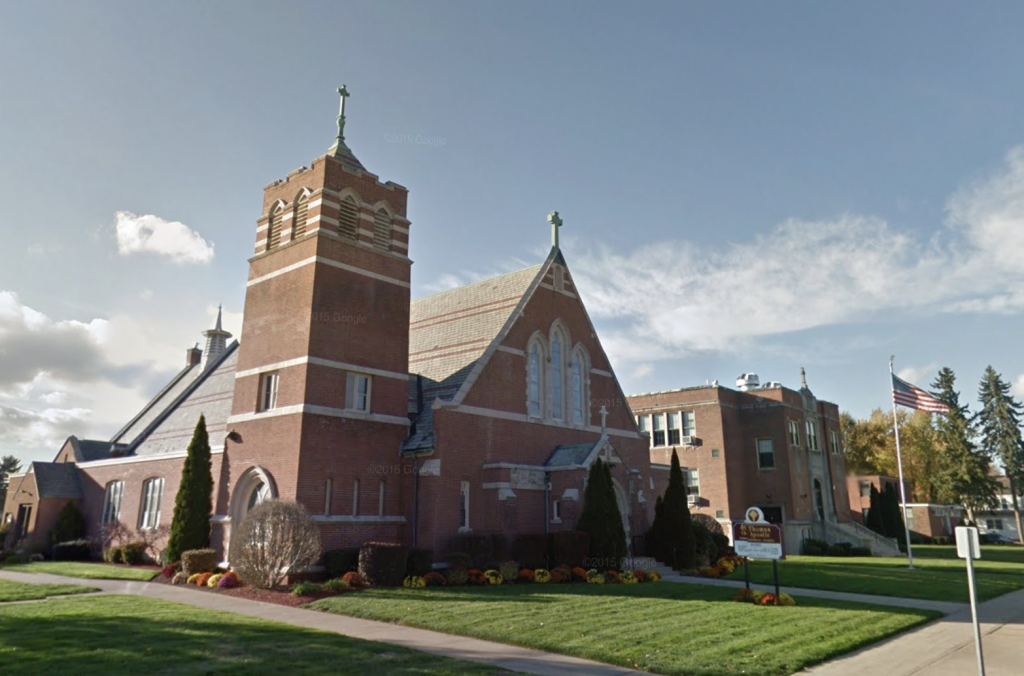 Homily for the 6th Sunday of Easter
May 17th, 2020 by Fr. Jack
St. Martin of Tours lived in the 300's and became one of the key founders and pillars of Christian civilization. He started the first two monasteries in France, each of which thrived for 1,200 years until the Protestant Reformation destroyed them.  
He became a bishop and converted thousands through his preaching and miracles. He repeatedly put his life in jeopardy to defend the faith. But his most famous action was his very first Christian deed.
As the son of a Roman military officer, he was forced to join the army when he was 15. He was stationed in France, where he heard about the Christian faith. When he was about 20, he reached a turning point: He was coming back into the city after a hard day's patrol. It was winter and bitterly cold. As he approached the city gate he saw a starved, half-naked man shivering and begging. People were laughing at and insulting the poor man; no one gave him anything.
Martin sensed that Christ wanted him to do something. But all he had was his magnificent military cloak and his armor. He stopped his horse, dismounted, and removed his cloak, and, taking his sword, cut it in half. He wrapped one half around the poor beggar and put the other half back on his shoulders. The onlookers laughed at him.
That night, in a dream, he saw Jesus wrapped in that half cloak he had given away, and heard him say, "Martin, not yet baptized, has covered me with this garment."
After that, he retired from the Emperor's army, joined Christ's army, and changed the course of history. Martin had learned what being a Christian means: loving one another as Christ has loved us.
But being like Christ may seem like too much for us. He was truly human, but he was also truly God - something that is beyond our limited reach.
If we depend just on our strength, intelligence, and personality, we will never be able to fulfill the commandment that Jesus has given us - not all the time, not every day. We have only so many cloaks in our closet, we have only so much time, money, strength. If we try to fulfill this commandment solely by our isolated efforts, we risk becoming bitter, frustrated, burned out, angry, or depressed.
But we were never meant to do it alone. Jesus knows we can't do it alone. That's why he gave us the Sacrament of Confirmation, the sacrament of supernatural strengthening by God's Holy Spirit.
In our reading from the Acts of the Apostles, Philip preaches the Gospel in Samaria and baptizes a huge number of converts. That's the beginning of their Christian lives; that's their decision to become Christ's followers. But when the news gets back to the Apostles in Jerusalem, Peter and John make a special trip out to Samaria to call down the Holy Spirit upon them - to administer the Sacrament of Confirmation. 
This is what Jesus was speaking about when he promised that after he returned to heaven - an event we will commemorate this week on Ascension Thursday - he would send us an Advocate, to be with us always. The Advocate is the Holy Spirit, the Third Person of the Blessed Trinity, who resides in our hearts.
This is Christ's greatest gift to us: our inner source of supernatural light and strength to live out the great commandment of Christian charity. That same Spirit will make Christ present again in this Mass, and, when we receive Christ in the Eucharist, let us thank the Lord for this great gift, and let us ask for the grace to live by the power of this Spirit, just like Christ, loving one another as he has loved us.+
Share
|
Download(

Loading

)